Molecular Fluorescence Endoscopy
Molecular Fluorescence Endoscopy in combination with novel targeted near-infrared (NIR) optical tracers allows for real time fluorescence imaging during endoscopy procedures. This combination can improve (pre)malignant lesion detection or provide insight in disease biology to evaluate the treatment responses. The endoscopic research line within the OMIG embodies a full translation of targeted fluorescent tracers from bench-to-beside in both cancer and inflammation research.
Focus
Using molecular fluorescence endoscopy, early detection of diseases is possible. Fluorescence imaging provides higher sensitivity and specificity than the current endoscopic imaging techniques. By using NIR fluorescence molecular endoscopy as a 'red-flag' technique the current endoscopic performance can be improved. For example, in patients with colorectal polyps or early cancerous lesions in patients with Barrett's Esophagus the early lesion detection can be improved. Another role of fluorescence molecular endoscopy is in the evaluation of treatment response. For example, in patients treated with neoadjuvant chemotherapy or in inflammatory bowel diseases. During fluorescence endoscopy insight can be given into the status of the tumor, or whether the targeted drug sufficiently enters the tumor or inflamed area. This is possible since not only the fluorescence signals are visualized, but also quantitative measurements using corrections for optical properties are applied.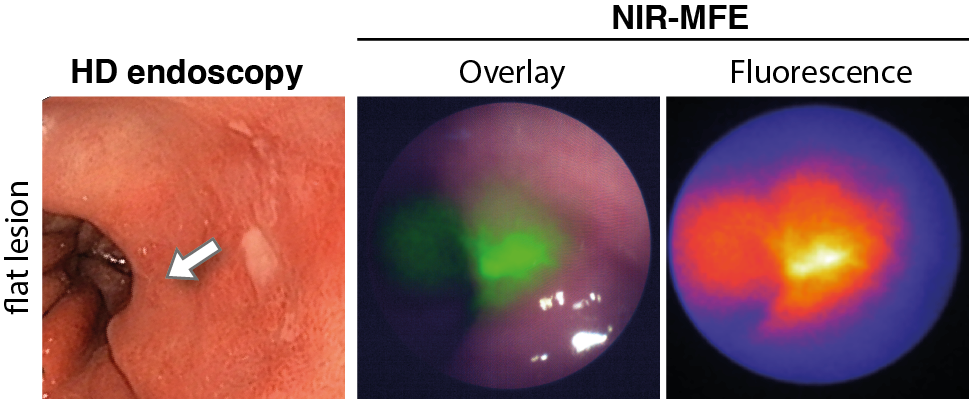 Studies
Currently, several clinical phase I and II studies have been finished or are running. For example, a study into the detection of early esophageal cancer (NTC03877601), a study into the mechanism of vedolizumab in inflammatory bowel disease (NCT04112212), or a study into treatment response in locally advanced rectal cancer (NCT04638036)or oesophageal cancer (NCT03558724). Next to feasibility and safety studies, the most optimal dose and biodistribution of the targeted fluorescent tracers are evaluated. Furthermore, novel biomarkers are identified and validated ex vivo to identify which biomarkers can potentially be used clinically as imaging markers. Above all, histology is used to correlate the results with the tissue.
Using the available systems and knowledge a validated and standardized ex vivo workflow is established to validate novel fluorescent tracers based on our extensive experience. This forms the basis for high-quality research aiming to further improve fluorescence molecular endoscopy imaging in the clinic.